Alexis Silk works in molten glass and metal to create figurative work that's timeless yet thought-provoking. A student of the human form, she combines close knowledge of anatomy with a passion for fire and an unquenchable thirst for meaning.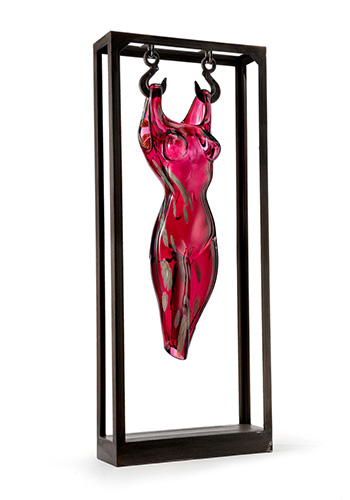 Technically, Alexis is pushing the boundaries of what is possible. Her glass figures are sculpted entirely freehand, while the glass is hot on the end of a blowpipe or a punty rod. With work ranging in scale to life-size torsos hanging in six-foot-tall steel frames, her largest figures are close to half her body weight and take a team of eight assistants to handle the glass while she sculpts it.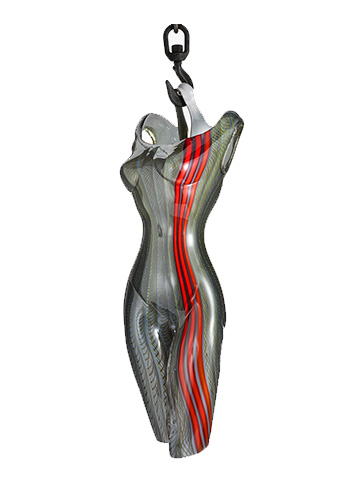 While making intrinsically beautiful objects, Alexis explores issues of human nature in regards to society, relationships, nature, and family. Her hanging figures, for example, are an eloquent exploration of objectification of the body.
The glass simultaneously appears like skin and evokes a sense of something superficially applied, like a garment. Cast iron "meat" hooks are a visceral comment on the objectification of the body.
The color on the interior of the torso is different from the exterior color, suggesting that if one goes below surface appearance there is more to be discovered. Steel frames represent conceptual boxes of perception that society puts us in.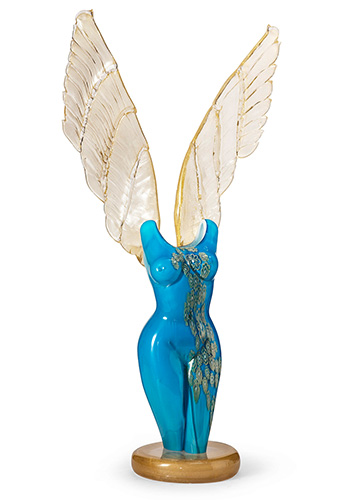 Since receiving her BFA from the School of the Art Institute of Chicago in 2005, Alexis has continued to study with glass masters such as Pino Signoretto, Martin Janecky and Cristiano Toso.
Today her work is displayed in museums, top galleries, private collections and fine art exhibitions around the world.